LED Festoon Lights Mixed Colours 15m 49ft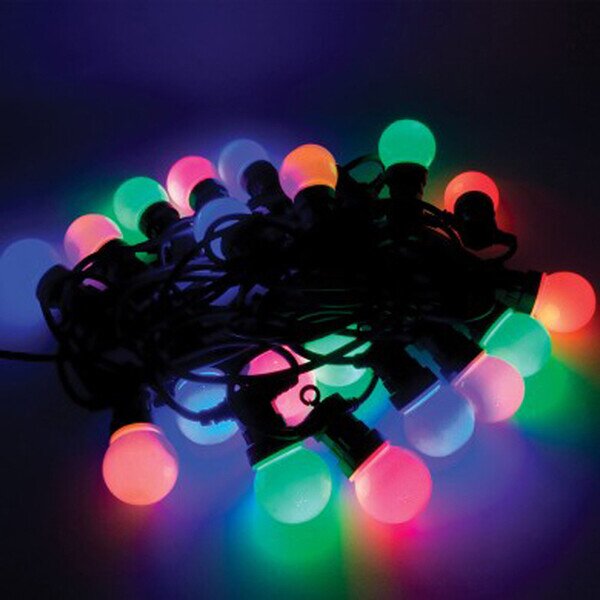 Brand: Generic Product
Product Code: 15FLLEDMC
Immediate availability

Quantity Discount available
15m 49ft LED Festoon Lights Mixed Colours
Festoon Lights to decorate wedding, birthday and any fun party
Festoon Lights are ideal to decorate with style and transform any indoor or outdoor space into a suggestive atmosphere. They are easy to assemble and they can be hanged in the garden, porches, trees, balconies, verandas, tents, taverns, wedding reception, or to decorate the children's room. Suitable for domestic and commercial use, each festoon is made with high strength, rubber coated cable and built-in 20
mixed colours LED lamps for total safety even outdoor (IP44). Each lamp bulb has 5 LEDs for higher level of illumination 20 lumen per lamp. These festoon lights are easily extendable by joining the end of the cable to the next series of lamps using only the transformer of the first festoon light.
Instructions - How to use Festoon Lights:
LED Festoon lights are pre-assembled and the lamps are installed by casting fixed at regular space. Each pack includes the cable with a transformer and 20 built-in lamp bulbs with five LEDs in each lamp. Simply join the connector at the end of the cable of the transformer to the connector of the cable with lamps. Insert the transformer 3 pin plug into the electric socket and the whole series will light up. To extend its length, remove the cap from the end of the first lamp series and join it to the connector of the other LED festoon light to get an additional 15 metres using only one plug source and one transformer.
When installing the festoon lights, we recommend to firmly fix it to a solid structure. If this is not possible, it is preferable to use a
catenary wire
, ideal for adding support and secure tension to the festoon lights, avoiding to damage the cable by pulling it too much.
Outdoor LED Festoon Lights Mixed Colours 15m 49ft
Cable Length: 15 m - 49 ft

Cable lead in: 3m - 10 ft

IP Rating: IP44

Rated Voltage/Volt: 220/240V - AC 50HZ

Lumen Output: 20lm per lamp

Light bulbs: 20 x LED Lamps 10 Watt

Light colour: Blue, Green, Lilac and Red

Lamp Spacing: 60cm - 2ft

Transformer Input: 100V-240V ~ 50/60 Hz

Transformer Output: 16V - 525mA 8.4W

Pack size: 30 W x 19 L x 18 H cm (12 x 7.5 x 7 Inch)

Pack Gross Weight: ± 1.1 Kg

Product Code: LEDFLMC15