4 Supreme Sky Lanterns Halloween Pumpkin
Sky Lanterns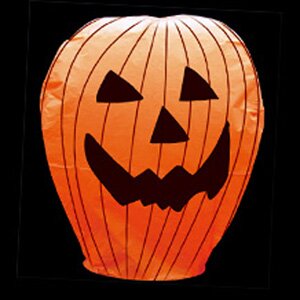 Brand: Night Sky Lanterns®
Design: 100% Biodegradable - Wire Free - Asbestos Free
Product Code: HSLP4


Immediate availability

Eco Friendly Halloween Sky Lanterns Pumpkin - Pack of 4
Eco Friendly Pumpkin Sky Lanterns
for ethical Halloween
party night
Eco Friendly Halloween Sky Lanterns have a spooky Pumpkin face on each of the 4 sides, and will gently rise in the sky. These lanterns don't have metal parts, asbestos free and truly 100% biodegradable.
We can now offer these superb quality Pumpkin Lanterns to make your Halloween celebrations even more spooky and ghoulish!! These fantastic Lanterns will be a great addition to your Halloween event! Made with flame-retardant paper, these fully bio-degradable Lanterns are a great addition to end the night and create an amazing visual display in the sky!
This improved design is equipped with an innovative fuel cell made of fabric which crumbles in air before the lanterns start descending. The new fuel cell makes easier to ignite and reduces the waiting time from lighting to launching the Lantern. This design, combined with the flame retardant paper, makes our Eco Friendly Sky Lanterns the safest Lanterns available on the market today. Additionally, Eco Sky Lanterns are very compact which further reduces packaging, weight, size and ultimately waste.

Completely Eco Friendly, No Metal Parts, Asbestos Free, Flame Retardant, Pre-attached Fuel Cell, Fully Biodegradable
Our Sky Lanterns are manufactured to the highest standard and should not be confused with cheaper and poorly made Sky Lanterns imitations. These Lanterns are equipped with a non drip fuel cell and with fully illustrated instructions on how to launch it safely into the Sky.
Instructions - How to use:

Eco Friendly Halloween Sky Lanterns are individually packed, pre-assemble and ready to use. Simply open the lanterns swing it in the air to unfold all sides and lit the fuel cell with a regular lighter. Full Instruction is written on the packaging of each lantern.
Eco Friendly Halloween Sky Lanterns Pumpkin - Pack of 4
Sky Lantern: Eco Friendly Halloween

Materials: Fireproof Paper 19 gm2, Bamboo Ring, Fibreglass String and Cloth Fuel Cell

Paper Colour: Pumpkin

Lantern size unfolded: 45 D x 70 H cm (18 x 36 Inch)

Pack size: 42 W x 42 L x 3 H cm (16 x 16 x 1.5 Inch)

Pack Gross Weight: ± 0.6 Kg

Brand: Night Sky Lanterns®
Barcode: 5060207704649

Product Code: HSLP4



Item Reviews & Comments
01 Nov 2020
Halloween sky lanterns and candle lantern bags
These arrived very fast making the extra postage worth the cost despite ordering on the 28th. I bought these for a children's halloween party and they loved seeing the spooky faces going off into the night sky. I also ordered some candle lantern bags which gave a lovely glow to our steps leading to the house and made it extra spooky on halloween. I have just made a new order for Christmas and new year and saved postage cost with free standard delivery. Thank you
16 Oct 2020
Love lamp!!!!
14 Apr 2020
These things should be banned! Please do not buy