Pompom Hanging Lanterns 50 cm / 20 Inch
Chinese Hanging Lanterns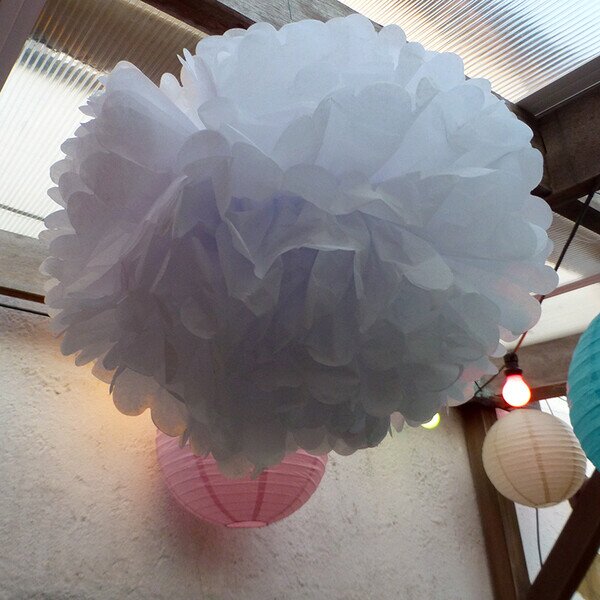 Brand: Night Sky Lanterns®
Product Code: PHL50
Immediate availability

Pompom Hanging Lanterns 50 cm - 20 Inch
Pompom Lanterns are ideal to give a splash of colours to any event and celebration. Create a particular and original feel to your party with our selection of premium quality Pompom Hanging Lanterns to add colour, vitality and style. These Pompom Lanterns can be used to enhance the look of indoor or outdoor spaces by hanging them to give a thrilling festal touch to the event.
Not to be confused with poor quality pompom sold on other platforms. These high-quality pompoms are made with thick paper 17 gm2, which increases their lifetime and durability.
Featured in many movies and TV series, they are becoming very popular to decorate weddings, birthdays, or simply to give a suggestive touch of to your garden. Pompom Hanging Lanterns 50 cm / 20 Inches are available in 9 colours to create a sense of diversity and bring a magical atmosphere to indoor and outdoor spaces.
Instructions - How to assemble/use Pompom Hanging Lanterns
Each Pompom Hanging Lantern is individually flat packed in a plastic bag. Take out the folded Pompom Lantern and make sure that the string is firmly holding the middle of the paper layers. Gently, open each layer of paper until a round shape ball is formed. Use the string to hang them on lamp holders, trees, festoon lights or other structures built to your event.
A manual instruction is provided with each lantern.
Pompom Hanging Lanterns 50 cm – 20 Inches - Pack of 1
Hanging Lantern: Pompom
Materials: Paper and Cotton string
Paper Colour: Blue - Green - Lilac - Orange - Pink - Red – Turquoise - White - Yellow
Size flat packed: 50 W x 0.5 H cm
Size unfolded: 20 Inch - 50 cm D
Pack Gross Weight: ± 30 grams
Brand: Night Sky Lanterns®
Product Code: PHL50