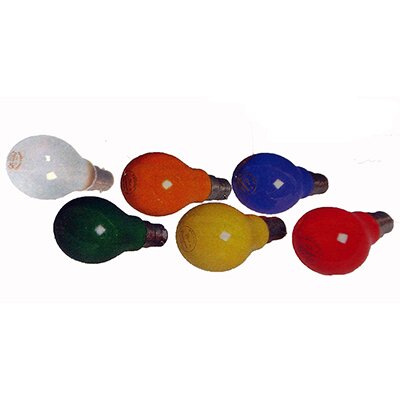 Brand: Generic Product
Product Code: 5LEDLBE27
Immediate availability

Quantity Discount available

LED Lamp Bulbs energy saving intensity
These
5W Lamp Bulbs E27 are retrofit size and available in 5 colours LED light (Amber, Blue, Green, Red and White). They can be used with Festoon Lights or as a replacement for standard GLS lamps with ES fitting, ideal for decorative lighting applications
to create sensational decorations with style and transform any indoor or outdoor space into a suggestive atmosphere. Lasts 15 times longer than standard GLS lamps and suitable for exterior use, guaranteed for 3 years when used with suitable waterproof fitting, subject to manufacturer terms and conditions.

Instructions - How to use LED Lamps E27:
E27 LED Lamps can be installed to any ES lamp holder non dimmable. ensure that that mains is switched off and simply screw the lamp bulb all the way to ensure a firm connection with the lamp holder.

5W LED Lamp Bulbs E27 - Pack of 1
Lamp Bulb: E27

Power: 5 Watt Equivalent to 30W standard GLS

Colour:

Amber, Blue, Green, Red and White



Voltage: 110V/240V ~ 50Hz 45mA


Service Life: 25000 Hours



Lamp Bulb size: 6 D x 10 H cm (2.5 x 4 Inch)

Pack size: 6 W x 6 L x 10 H cm (2.5 x 2.5 x 4 Inch)

Pack Gross Weight: ± 0.05 Kg

Product Code: 5LEDLBE27