Fabric Hanging Lanterns 30 cm / 12 Inch
Chinese Hanging Lanterns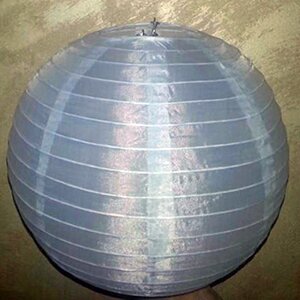 Brand: Night Sky Lanterns®
Product Code: FPHL30
This product is unavailable.

Quantity Discount available

Fabric Hanging Lanterns 30 cm - 12 Inch
These Fabric Hanging Lanterns 30 cm - 12 Inch are ideal for permanent installation of outdoor events and to enhance the look of weddings, indoor or outdoor
Fabric Lanterns can be used to enhance the look of indoor or outdoor spaces by hanging them or anchoring them to the floor and applying a light inside to give a thrilling festal glow to the event. Create a particular and original feel to your party with our selection of premium quality Fabric Hanging Lanterns to add vitality and style.
Not to be confused with poor quality hanging lanterns sold on other platforms. These high-quality lanterns are made with thick nylon, which increases their lifetime and durability, even when they are used permanently outdoor.
Featured in many movies and TV series, they are becoming very popular to decorate weddings, birthdays, or simply to give a touch of suggestions to your garden. They are also suitable for corporate events and they can be personalised with the company logo.
The light of the LED light, Lamp Holder or Festoon Lights placed inside the lanterns produces a beautiful glow and creates a very special effect, making a superb addition to any summer garden party and they are great for relaxing in your garden in the twilight hours.
Instructions - How to assemble/use Fabric Hanging Lanterns

Each Fabric Lantern is individually flat packed in a plastic bag. Take out the folded Paper Lantern and you will notice two openings, one at the top and another one at the bottom of the ball. With your hands, on each side, pull to expand the lantern and insert the Expander from the top and pull the expander until it locks in the two rings attached on the top of the lanterns. Once the expander is in tension, the lanterns will assume the shape of a ball.
At the top of the Expander there is a C hock to tangle the eclectic cord of the Lamp Holder.
Fabric
Lanterns can also be used to decorate open spaces by creating a web of suspended strings of nylon or wire to attach the lanterns.
These
Fabric
Lanterns can be installed permanently during all seasons.
A manual instruction is provided with each lantern.
Fabric Hanging Lanterns 30 cm – 12 Inches - Pack of 1
Hanging Lantern: Fabric
Materials: Nylon and Metal Wire
Paper Colour: Beige - Blue - Fuchsia - Green - Lavender - Lilac - Orange - Pink - Red - White - Yellow
Size flat packed: 30 W x 30 L x 1 H cm
Size unfolded: 12 Inch - 30 cm D
Pack Gross Weight: ± 60 grams
Brand: Night Sky Lanterns®
Product Code: FPHL30