Black Twig White LED Lights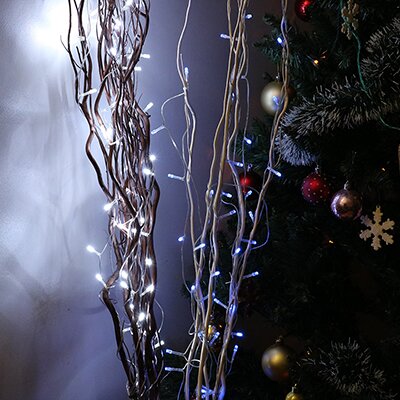 Brand: Generic Product
Product Code: 5BTLW


Black
Twigs with Decorative White LED Lights
Twig LED Lights are ideal to brighten a corner or for party decorations
These Black Twigs are tangled with a string of 50 Bright White LED Lights, perfect to enhance a dark corner and ideal for Christmas party decoration for a truly eye-catching visual effect. Simply plug the 240v transformer in a socket and thanks to the 3 metres cable allows to easily placing the twig in a transparent container or in a glass vase. Bright and long-lasting LEDs ensure that the light will be constant for its whole lifetime unlike those which requires batteries to power the LED lights.
Instructions - How to use Twig LED Lights:
The Twigs are packed in a protective container for easy transportation. Take out the twigs from the container and untangle only the end of the cable at the bottom of the twigs. Place the twigs in a transparent tall vase with some sand or white gravel inside, so it will firm the vase to the floor or other hard surfaces. The twigs can be also placing directly on the floor to brighten up a corner of the room. Connect the end of the cable to the 240v transformer provided and plug it into the nearest electric socket within 3 metres from the vase with the twig and switch on the LED lights.
For indoor use only
Do not place in water
Keep away from fire and naked flames
Keep away from children
Do not connect this item to the electrical supply whilst it is in its packaging. Ensure the connection cable is fully unravelled and that there are no twists or snags along its length. This item in not intended for permanent installation or use. It must be connected directly to the main electricity supply. Connect only through the supplied transformer. No earth connection to this item is required. Do not use if the insulation of the item or cable is damaged. This product must be disposed of if supply cord or insulation is damaged. Do not connect this item electronically to another by cutting or joining together. Position the cable so that is always above the ground and does not present a tripping hazard. The transformer will become warm during use. Do not place on surfaces which could be affected by heat, for example carpet, wooden/laminated flooring or furniture. Disconnect the transformer from the main when this item is not in use. Fitted with non-replaceable bulbs.
Electrical information
This item complies with the relevant part of BS EN60598
This item is fitted with 50 LED light bulbs – Rating: 3V 20MA
Transformer to 1st light bulb approx. 3M
Only use with transformer model ref: JC-DC31V0.12A (3.6VA)
4ft 1.2m Black Twig with Decorative White LED Lights
5 x Twigs Colour: Black

LED Light bulbs: 50 LEDs 3V 20MA

LED Light Colour: Bright White

Transformer: UK 3 pins plug

Transformer Voltage: 220-240V domestic ~ 50-60Hz

SEC: 31V~0.12A Max: 4W Tc=75C

From plug to first lamp holder: 3m - 10ft

Pack size: 8 W x 6 L x 120 H cm (3 x 2 x 47 Inch)

Pack Gross Weight: ± 0.35 Kg

Product Code: 5BTLW