50m Festoon Lights with 140 BC Lampholders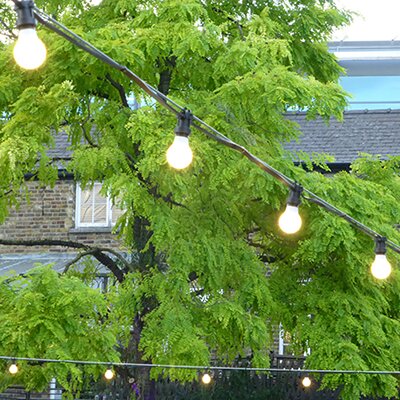 Brand: Generic Product
Product Code: 10FLES10
This product is unavailable.

Quantity Discount available

50m 165ft Festoon Lights with 140 BC Lampholders
Festoon Lights to brighten up a birthday,
wedding and any party
Festoon Lights are ideal
to brighten up and create sensational decorations
with style and to transform any indoor or outdoor spaces into a suggestive atmosphere.
They are easy to assemble perfect for weddings and birthday parties or they can be hanged in the garden, porches, trees, balconies, verandas, tents, taverns
or to decorate the children's room. Suitable for domestic and commercial use, each festoon is made with 50m high strength, rubber coated cable and built-in 140 BC
lamp holders for total safety even outdoor (IP44).
The rubber cable
H05RN-F 2x1,0 mm2
with UK plug applied by casting is very stable, made with high quality materials, flexible and resistant to environmental conditions and splashes of water.
Maximum lamp rating per lampholder is BC 15W lamp or any BC LED lamp bulb (not included).
Instructions - How to use Festoon Lights:
Festoon lights are pre-assembled and the BC lampholders are installed by casting fixed at regular space. Simply screw each light bulb in the lamp holders and once they are all fixed, plug in the cable and make sure they all properly fitted before installing it.
When installing the festoon lights, we recommend to firmly fix it to a solid structure. If this is not possible, it is preferable to use a
catenary wire
, ideal for adding support and secure tension to the festoon lights, avoiding to damage the cable by pulling it too much.
Festoon Lights ES Lamp Holders
Cable Length: 50 m - 165 ft


Lampholder: 140 rubber BC Lampholders

Cable: Black internally coated

H05RN-F 2x1,0 mm2

with UK plug
Cable lead in: 2m - 6.5 ft

IP Rating: IP44

Rated Voltage/Volt: 220/240V ~ 50/60 Hz Domestic

Lamp Spacing: 35cm - 13In

Pack size: W x L x H cm ( x x Inch)



Pack Gross Weight: ± 6.3 Kg

Product Code: 50FLBC140